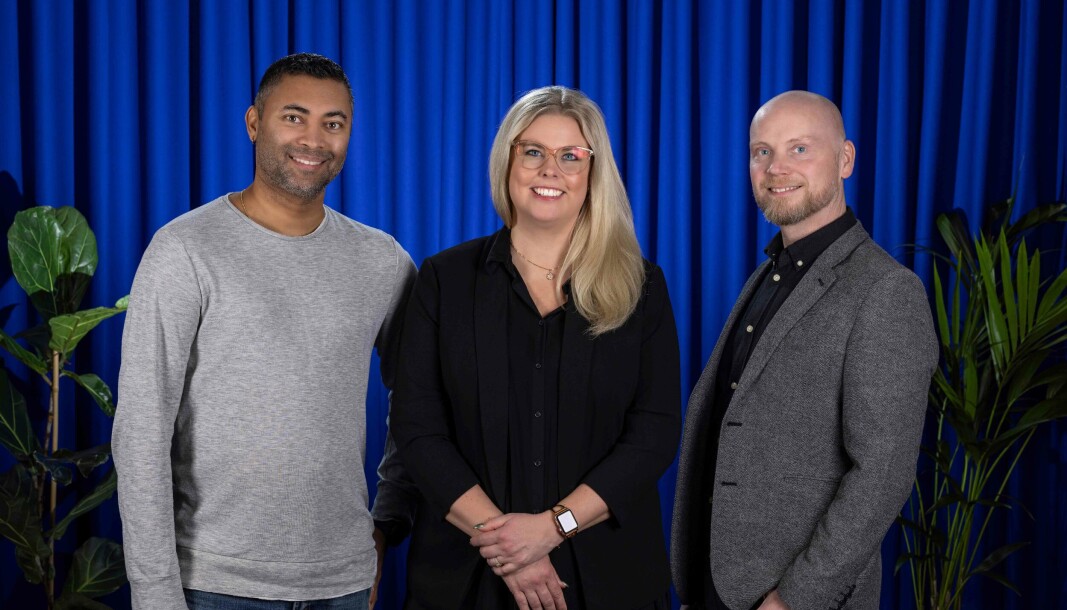 NOVA continues its expansion in Sweden: establishes new design agency
NOVA has expanded its presence in the Swedish market by establishing the design agency, Fyr.
Anna Stefansson, Rodolphe Toots and Joacim Broström are the entrepreneurial trio heading NOVA's new addition, Fyr. With extensive experience of design and technology, the new agency will be an important part of the digital services ecosystem that NOVA is building in the Swedish market. Fyr will join Cloud Nine, Pineberry, Infunnel and Optimizely specialists Epinova, as the foundation of NOVA's Swedish group of companies, which now has more than 130 employees.
With our new agency, Fyr, we have reinforced NOVA with some of Sweden's best consultants at the intersection of technology and design. Together, we have created a design agency that understands technology. I know the founders personally and trust their ability to deliver excellent strategic design solutions. The company is already moving swiftly, and I would not be surprised if Fyr triples its workforce during the coming year.
Michael Jäderlind, CEO of NOVA in Sweden
Co-ownership attracts talent
Anna Stefansson is the first CEO of Fyr. She previously held the position of marketing and sales manager at the digital agency Sublime. Before that she was head of the design and branding agency Söderhavet and sales manager for Apegroup (now called Umain), which is part of the ARC.
"One of the many benefits of NOVA is that we all have the opportunity to become co-owners, if we wish. We see that this is a decisive factor in our process of recruiting senior and junior colleagues who will help build our new company," says Anna Stefansson, founder and CEO of Fyr.
Technology and design
Rodolphe Toots was formerly with the digital agency Noa Ignite, where he worked as a customer manager for the last few years.
"At Fyr, we integrate innovation and technology into our design solutions in a way that no other agency has previously done. With our end-to-end experience of strategic design, we can help customers create a more powerful brand experience that helps to build internal pride, increase profitability and boost the adoration and loyalty of employees and customers alike," says Rodolphe Toots, founder and creative technology manager at Fyr.
Digital experiences
Joacim Broström previously held the position of creative director at the digital agency Sublime.
"We help our customers create a competitive advantage by delivering positive, conscious and holistic digital experiences and brand interaction. Together with our partner agencies in NOVA, we can now provide a complete range of services spanning the digital ecosystem and help customers create a fantastic overall experience," says Joacim Broström, founder and creative leader at Fyr.
Total experience design
Total experience design (TXD) is a concept that the business analytics company Gartner has recently highlighted as an important part of the brand building process. For Fyr, total experience design helps us ensure an exceptionally positive overall experience for everyone who comes into contact with a brand. This applies to external users, customers and employees alike.
Expansion in Sweden continues
In Sweden, NOVA already owns the digital agency and e-commerce specialist Cloud Nine, SEO and SEM specialists Pineberry, the Martech agency Infunnel (which specializes in marketing automation, CRM and the digitization of customer journeys) and the Optimizely/Episerver focused subsidiary Epinova, which like Epinova in Norway specialises in web and e-commerce solutions. Further acquisitions and new ventures are planned in Sweden in the future, in order to position NOVA as a leader in e-commerce, digital marketing, digital service design and strategic brand development.
NOVA's customers in Sweden now include C More, SEB, Granngården, Postnord, Permobil, Volkswagen, Sony Music, Houdini Sportswear, Bemz, Doktor.se, Cylinda, Visma, Efva Attling, Filmstaden, Mercedes and Tetra Pak.
Facts about Fyr
Fyr is a total experience design agency that helps its customers create positive and focused digital brand experiences and interaction. Together with its partner agencies in NOVA, Fyr can create excellent holistic experiences. With total experience design as a strategy, Fyr creates more powerful brand experiences that help to build workforce pride, increase profitability and boost the adoration and loyalty of employees and customers alike.